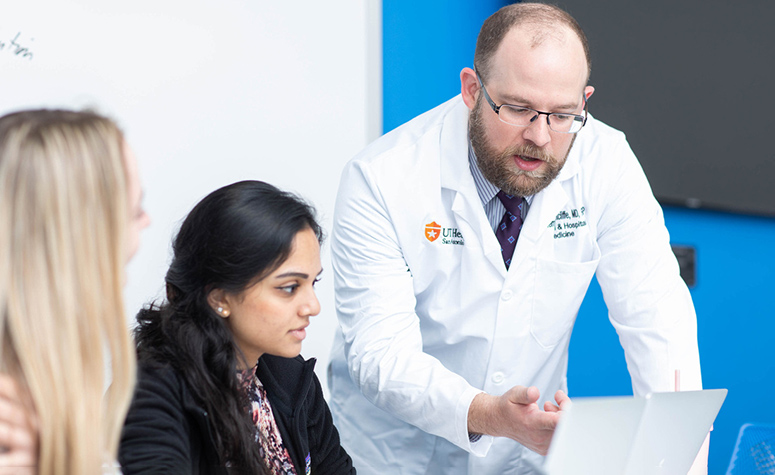 The Doctor of Medicine (M.D.) degree program's CIRCLE curriculum is guided by educational best practices in standardizing learning outcomes while providing students with opportunities to individualize the learning process. There is an emphasis on active learning with formative checkpoints for students to self-assess their progress and develop habits of self-directed learning and inquiry. The curriculum integrates basic & clinical science knowledge with early clinical experiences to provide students with a better understand of disease process and management. Ample time is provided for electives, selectives and exploration of career choices essential to professional identity formation.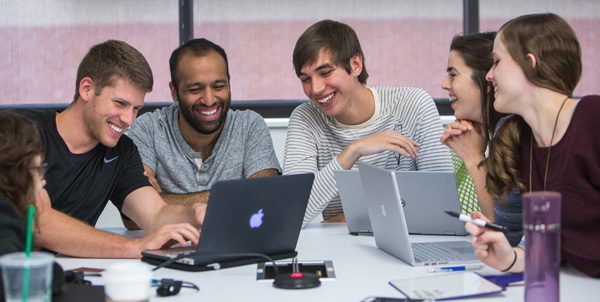 The foundational 20-month preclinical curriculum emphasizes acquisition of formal knowledge and clinical skills in a systematic and incremental manner that emphasizes thematic relationships over rote memorization.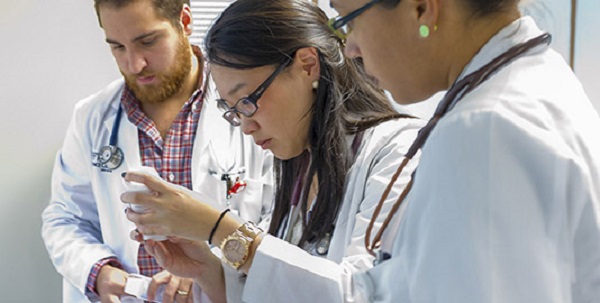 The clinical phase of the curriculum includes core clerkships where students gain experience in a variety of settings. In fourth year, there is ample opportunity to explore career interests and gain additional experience and confidence in clinical skills needed to transition to residency.
Program Highlights
Two dual degree programs are available to students. Students also have the opportunity to pursue a degree distinction during medical school.
Our basic bedside ultrasound curriculum will extend over all 4 academic years. The curriculum will focus on hands-on training using live and simulation models with associated supplementary didactics.
Standardized Patient Program provides students with opportunities to develop their clinical skills. Standardized patients are individuals carefully chosen to portray patients with specific medical conditions.
Keys to Success
Culture of Excellence

We strive to maintain a culture of inclusion, high expectations and fairness. We embrace and celebrate distinctive perspectives and viewpoints that enrich all members of the Long School of Medicine and UT Health San Antonio.

Proven Integrated Curriculum

The CIRCLE Curriculum integrates clinical experiences from the first day of medical school with foundational science through all four years. We have a proven track record of student satisfaction and success on United States Medical Licensing Exam (USMLE) and in the National Resident Match Program (NRMP).

Individualized Learning

Students have the ability to individualize clinical activities. Opportunities are available to participate in Student-Faculty collaborative clinics in the community. Various community service learning projects and elective courses are available both locally and internationally.

Dedicated Faculty

An integrated group of talented, passionate, experienced medical educators who are Researchers, Clinicians, and Leaders.
Competencies and Objectives of the MD Degree Program
Altruism
Medical students must be compassionate and empathetic in caring for patients, and must be trustworthy and truthful in their professional dealings. They must act with integrity, honesty, and respect for patients' privacy and dignity.
By the time of graduation, the Long School of Medicine M.D. student will be able to:
List and define the basic principles guiding ethical decision making
Apply ethical concepts to medical ethical dilemmas
Demonstrate respect for human dignity
Provide compassionate patient care
Demonstrate honesty and integrity in educational and professional interactions
Demonstrate appropriate patient advocacy
Understand the factors that impact health
Appropriately address conflicts of interest inherent to the field of medicine
Knowledge
Medical students must understand the scientific basis of medicine and be able to apply that understanding to the safe and effective practice of medicine. They must utilize self-assessment and self-knowledge to optimize their learning.
By the time of graduation, the Long School of Medicine M.D. student will be able to:
Demonstrate knowledge of normal structure and function of the human body

Demonstrate knowledge of the pathogenesis and pathophysiology of disease and disorders

Demonstrate knowledge of the clinical manifestations of common conditions and disorders

Demonstrate knowledge of the pharmacotherapeutic modalities for common conditions and disorders

Demonstrate knowledge of the basic principles of clinical and translational research

Demonstrate knowledge of the epidemiology of common conditions and disorders

Demonstrate knowledge of systems of healthcare delivery
Skills
Medical students must acquire wide-ranging skills that will enable them to care for patients as a professional.
By the time of graduation, the Long School of Medicine M.D. student will be able to:
Obtain an accurate and complete medical history
Perform all components of a complete physical examination
Prepare for and perform basic clinical procedures
Perform basic interpretation of commonly used diagnostic tests
Recognize the typical physical exam manifestations of common medical conditions and disorders
Demonstrate the skills of clinical reasoning and clinical problem solving for common conditions and disorders
Create appropriate management strategies for common conditions and disorders
Apply the principles of relieving total pain (physical, psychological, spiritual and social)
Demonstrate effective and appropriate communication of medical information, both in writing and verbally
Demonstrate the ability and commitment to continuously improved medical knowledge and skills