Highlighted areas of study
Featured studies
San Antonio partners pioneer surgery aimed at reversing Type 2 diabetes
UT Health San Antonio, University Health and Texas Biomedical Research Institute are reporting promising results following a minimally invasive procedure that dissolved abdominal fat in two patients. The goal of the novel procedure is to improve the patients' health and minimize or reverse the adverse health effects of their Type 2 diabetes. To ask about study eligibility, call the Texas Diabetes Institute's research line at 210-358-7200 and ask for Mary Samano.
COVID-19 Respiratory Recovery clinical trial
Clinical Trials Office referral for COVID-19 respiratory clinical trial lead by Drs. Tom Patterson, MD and Jan Patterson, MD.
Researching COVID to Enhance Recovery (RECOVER) Initiative
The University of Texas Health Science Center at San Antonio, whose faculty see patients at University Health, are recruiting 900 adult COVID-19 survivors from the COVID-19 Outpatient Virtual Infectious Disease Clinic and other care settings for a federally funded study that seeks to understand why some people have prolonged symptoms or develop new or returning symptoms after the acute phase of SARS-CoV-2 infection. The partnership also includes the Laredo Health Department as a clinical partner. For additional information, please call 210-567-5262 or visit the RECOVER: Researching COVID website.
Questions to ask research teams
What is the purpose of this study?
How long is the study?
What is already known about the treatment in the study?
Will I know if I am getting the treatment?
Will I be paid for my time?
Do I have to pay for any part of the study?
Will the results be given to me?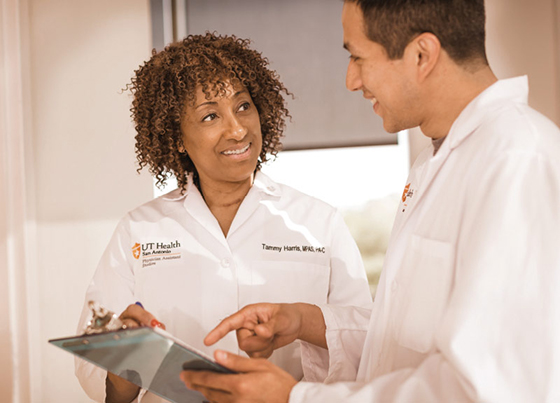 Why volunteer?
Volunteers are needed in clinical trials to understand how new treatments or interventions affect people. Without you, better treatments for diseases like diabetes, cancer, stroke, and other medical conditions would not exists. Sometimes, clinical trials can be treatment option for people.
¿Por que voluntario?
Se necesitan voluntarios en estudios clínicos para comprender cómo los nuevos tratamientos o intervenciones afectan a las personas. Sin usted, no existíra mejores tratamientos para enfermedades como diabetes, cáncer, asma y otros afecciones médicas.
For Researchers & Sponsors
UT Health San Antonio Office of the Vice President for Research offers administrative, regulatory and budget support services to industry sponsors and investigators conducting clinical trials.
By 2030, cancer in Latinos is going to increase by 140%. But, we know very little about how new treatments affect this population since they are still underrepresented in clinical trials.

Amelie G. Ramirez, Dr.P.H
Chair, Department of Population Health
Member, National Academy of Medicine