Institutional Collaboration 
The STX-MSTP works collaboratively with the Institute for Integration of Medicine and Science (IIMS) & the Clinical and Translational Science Award (CTSA) at UT Health San Antonio. Students often participate in IIMS/CTSA events throughout their training through research days/retreats, funding opportunities, or by working collaboratively with CTSA-funded researchers. Our institution offers endless potential for any aspiring physician-scientist: 
San Antonio is home to the largest military health care and biomedical research operations in the United States providing unique collaborative opportunities not available elsewhere.
The Southwest National Primate Research Center housed at the Texas Biomedical Research Institute contains unique resources through their large pedigreed primate colonies. These primates enable long-standing collaborations among many IIMS partners and represent an outstanding resource for translational research activities.
UT Health San Antonio serves a 46,000 square mile area including the Lower Rio Grande Valley populated by predominantly Hispanic residents comprising some of the poorest people plagued by the highest rate of health disparities in the US, providing an opportunity, challenge, and obligation for us to make a significant impact on human health.
MSTP GS3, Jacob Boyd won first place for student posters at the 10th Annual Frontiers of Translational Science Research Day on May 1st for his poster titled, "High omega-6 diet increases risk of chronic pain." The Research Day was hosted by the UT Health San Antonio Institute for Integration of Medicine & Science/Clinical & Translational Science Award (IIMS/CTSA).
Learn more at: iims.uthscsa.edu
Grant-Writing Assistance
Each MD/PhD student is required to submit an NRSA Fellowship (F awards, including F30 and F31) for submission to the NIH. That being said, we do not expect our students to come in with grant-writing experience, nor do we expect them to accumulate this on their own. Through the Institute for Integration of Medicine and Science (IIMS) and the Office of Postdoctoral Affairs, we offer a hands-on writing workshop targeted to pre- and postdoctoral trainees who are working towards a grant submission to NIH or other funding agencies. Meetings are held weekly, in 12-week increments throughout the year and are informal, small group format. F-Troop sessions include discussions of the NIH peer-review process, including communications with NIH officials and selection of study section, as well as UT Health San Antonio associated requirements (eCOP and Cayuse). Most importantly, a major effort is devoted to case-by-case presentations and evaluation/discussion of F grant components prepared by individual trainees. This interactive group effort provides friendly, but frank feedback toward the goal of submitting a competitive F application.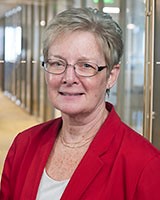 ​
F-Troop is led by Linda McManus, PhD. Dr. McManus is a Distinguished Professor ​ in the Department of Pathology and the Director of the Office of Postdoctoral Affairs.​
Student Fellowships
Students currently on individual extramural fellowships:
| | |
| --- | --- |
|   Andy Q. Banh | NIH NIA F31 NRSA (2021-2023) (link coming soon) |
|   Jacob Boyd, PhD | |
|   Laura Caflisch, PhD  | |
|   Brian Iskra, PhD | |
|   Anand Kornepati   | |
Students previously on individual extramural fellowships: 
| | |
| --- | --- |
|   Daniel Barron, MD, PhD | |
|   Danielle Callaway, MD, PhD  | |
|   Curtis Clark, MD, PhD | |
|   Jeffrey Cooney, MD, PhD | |
|   Vinh Dao, MD, PhD | |
|   Elena Daoud Wisely, MD, PhD | |
|   Kathryn Hinchee-Rodriguez, MD, PhD | |
|   Tiffani Houston, MD, PhD | |
|   Brett Ipson, MD, PhD | |
|   David Melton, MD, PhD | |
|   Diana Villarreal, MD, PhD | |
|   Joseph Walch, MD, PhD | |