SHP graduates participate in historic commencement ceremony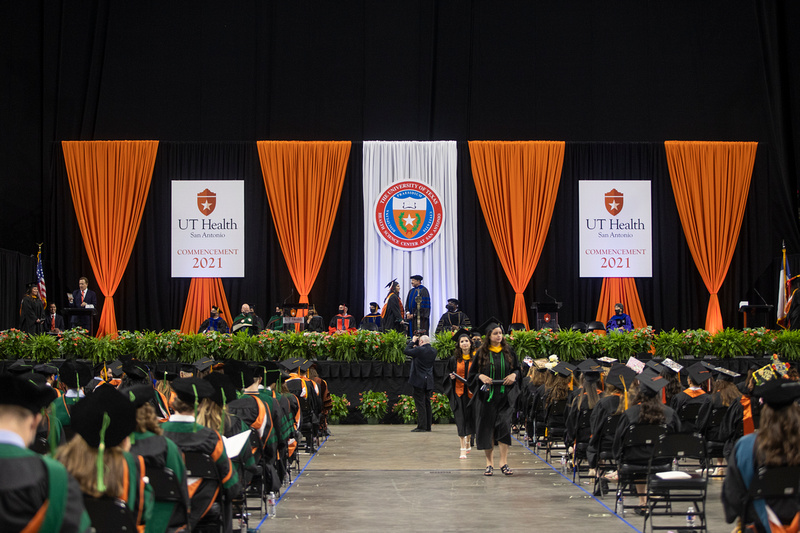 By Kate Hunger
Students from the School of Health Professions' Class of 2021 walked the stage at the Alamodome on May 22 in an historic commencement ceremony that included all five of UT Health San Antonio's schools — a first in the institution's 53-year history.
Graduates from the departments of Physical Therapy, Occupational Therapy, Communication Sciences and Disorders, and Emergency Health Sciences, and from the divisions of Respiratory Care and Medical Laboratory Sciences sat alongside medical, nursing, dentistry and biomedical sciences graduate students as a limited number of guests watched from the stadium seats.
Once COVID-19 prevented students from seeing each other face to face, MLS master's graduate Miguel Vargas had not imagined an in-person commencement would be possible.
"I never expected us to get together," he said. "It's a nice cherry on top."
"It's a perfect time to bring us together and celebrate," said respiratory care master's graduate Sergio Perez, whose classmates sang "Happy Birthday" to him as they waited to walk the stage.
The commencement keynote speaker was veteran network television journalist John Quiñones, who talked about his experience growing up on San Antonio's West Side and laboring alongside his family picking cherries and tomatoes as a migrant farmworker in his early teens. Quiñones encouraged graduates to show compassion in their professions and to ask themselves what they want their legacies to be.
As the first combined commencement in the health science center's history, the ceremony reflected the interprofessional nature of the institution, said David Henzi, Ed.D., associate dean for academic and student affairs for the School of Health Professions.
"It was great to have all of the students there, and it was wonderful to see their families there celebrating with them," he said.