PT students gain experience in on-campus pro bono clinic
By: Kate Hunger
Tuesday, June 29, 2021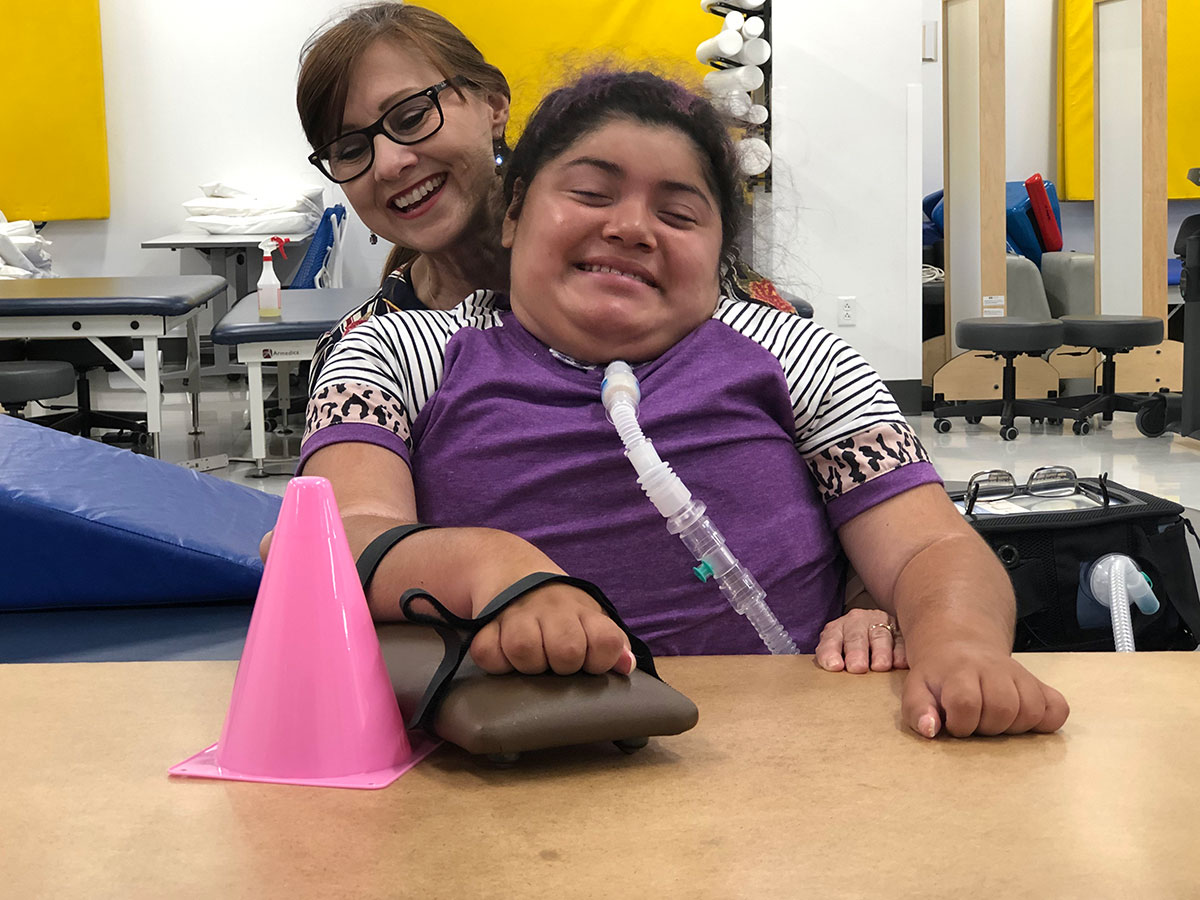 Physical therapy students have the opportunity to gain hands-on experience in a new pro bono on-campus clinic.
Led by Assistant Professor and Assistant Director of Clinical Education Selina Morgan, PT, DPT, NCS, the clinic runs out of the physical therapy lab and serves six patients with spinal cord injuries—children and adults. Students schedule patients and come to the clinic in groups of two or three to attend sessions led by Dr. Morgan. Begun earlier this year, the clinic makes it possible for patients to continue to receive services despite access issues, including a lack of or gap in insurance coverage, Dr. Morgan said.
"It's considered a student experience," she said. The patients "have to be willing to allow students in the room and to ask questions and work with them."
Physical therapy students spend their third year in clinical rotations, but volunteering in the pro bono clinics gives them important experience in their second year, she said. Dr. Morgan, who is board certified in neurologic physical therapy, said the clinic also gives students the chance to work with patients who have neurologically based injuries, as opposed to the mainly orthopaedic injuries they encounter in the Department of Physical Therapy's pro bono clinics at Alpha Home, a nonprofit long-term substance abuse recovery center, and Haven for Hope, the city's center for services and shelter for homeless people. The coronavirus pandemic limited student access to Alpha Home and Haven for Hope.
"I was just starting to see a need for students to be a bit more hands-on in their second year," said Dr. Morgan.
Third-year physical therapy student Trey Conroy helps schedule patients for the monthly clinics Alpha Home and Haven for Hope, and he previously scheduled patients for Dr. Morgan's on-campus clinic.
"It's a patient population we don't get to see at the traditional pro bono clinics we have," Conroy said. "It opens up the types of patient populations we are able to get exposure to. Everyone I talked to who volunteered with Dr. Morgan loved the experience."
Nicholas Dennis is one of those students. Now in his third year, Dennis appreciated the opportunity the clinic gave him during his second year to see the real-life application of concepts he was learning in class.
"I have really fallen in love with neuro rehab," he said. "I really love the ability the PT has to step into those patients' lives and get them back to activities, whether that be moving from their bed to wheelchair independently or getting back to ambulating by themselves."